Monday, February 15, 2021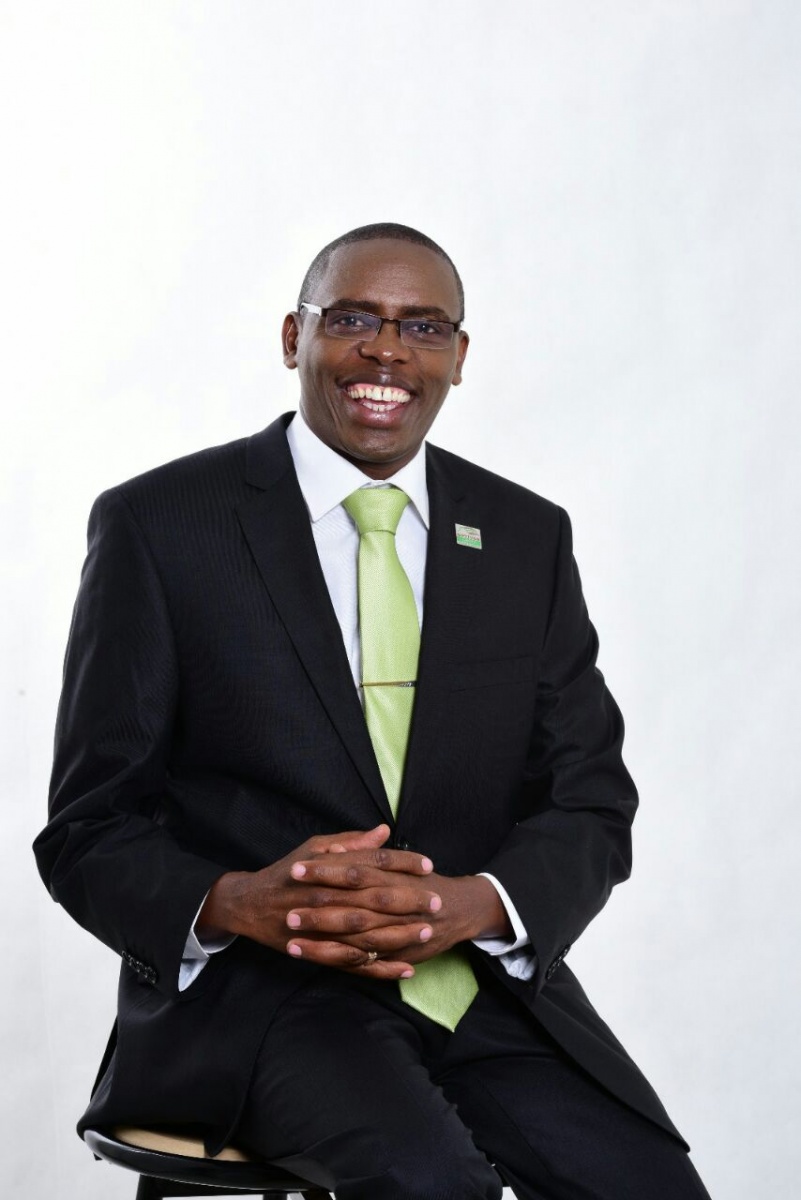 He is the founder of a top notch real estate firm that has been scooping awards, right left and center. He is also the founder and trustee of a charitable foundation that is quietly transforming numerous lives, especially the young ones, across the country. He is an astute entrepreneur, a motivational speaker, a lecturer and a family man all wrapped in the soul of one very energetic man.
George Wachiuri graduated from the University of Nairobi School of Business with a Bachelor of Commerce degree and Masters in Business Administration in 1997 and 2005 respectively.
Meet George Wachiuri, one of the most charismatic yet compassionate and down-to-earth Chief Executive Officers of our times. This father of three is also a renowned published author of two bestselling books: 'Soaring like an Eagle' and 'Unleash your full Potential', both of these books are available on Amazon with all their proceeds going to Optiven Foundation, a soft arm of Optiven Group, which is a company that is living up to its tag-line, making its customers and all its other stakeholders experience real, positive difference in their lives.
"Before establishing Optiven, I had 15 other successive businesses that I started but unfortunately they all ended up folding. The epitome of these sequential failures was when I lost a solid Kshs5 million to some crooks who had passed for genuine salesmen, only for me to realize later that I had been conned," says Wachiuri.
These racketeers had offered to sell him a piece of land. But after making the requisite payments, he went back to their office only to find that they had since vacated – into thin air. "I have never heard from them since then!" he narrates.
He points out that this was the turning point in his life. He recounts: "After this incident, I was financially down. I would walk to town and after my morning engagements; I would retreat to Uhuru Park, a public park in Nairobi's central business district, which had become my default 'office'. Every time that I was at this park, I would always make sure that I had a bible where I would draw divine inspiration plus a notebook and a pen which I would use to map out the ideas that I had."
Wachiuri says that during this very tough time, there were only two pillars that kept holding him up - his wife, Mary Wacuka and God. "These were the only two beings that kept me moving. Were it not for them, I could have probably sunk into an awful depression," he reveals.
Wachiuri, who now sits as a board member at the Kenya Private Sector Alliance (KEPSA) and who is also part of the board directors at the Kenya Private Developers Association (KPDA), where he serves as an advisor at the land sector board, says that he has always looked back at those low moments of his life to fire him up to become an even more successful person.
"I always believe that we are shaped by the experiences that we go through in life. It is therefore prudent to make sure that whatever you go through, you learn the lessons so that you do not go back there," he says. The experience of being conned, for example, later gave me the kick that I needed, to establish a property selling company that is genuine and that can be trusted by Kenyans.
He notes that having been born in a family that experienced abject poverty, he just had this inner drive in him ever since he was a young boy that one day; he would make it big and help uplift his family's standards of living, especially his mother. He also believes that it is this paucity-soaked background that always nudges him to assist the less fortunate in the society, hence the birth of Optiven Foundation.
"My father passed away when I was still a small boy and soon after, we had to seek manual labour in our village in order to survive. We would wake up very early in the morning, accompany our mother to till our rich neighbours' land for a small pay, then dash to school," he says.
Perhaps these early experiences are the ones that also taught this Certified Public Accountant - CPA (K) holder, to be both resilient and be a go-getter, especially on matters entrepreneurship.
"Even when I went to the University of Nairobi, where I was pursuing an undergraduate degree in commerce - marketing option – I had to provide my own school fees. This means that I didn't enjoy the life pleasures that were common with my university colleagues. I had to come up with a way of earning as much money as possible, while at the same time, creating time to study so that I am able to balance both ends," he says.
As a result, Wachiuri would do laundry work for his comrades at a fee. He also acquired a Yashica camera, which he would use to take photos of fellow students at a fee in order to make an extra coin.
"On top of this, I also converted my cubicle into a little library where I would stock many old but relevant magazines and books and lend them out to fellow students for a small charge," he says.
And with all these entrepreneurial engagements, the University of Nairobi noted this young man's efforts, and bestowed him an award: The 1997 Entrepreneur of the Year, University of Nairobi (UoN). This award was to later become the magnet that starting attracting numerous other awards, towards the way of this man who was born and brought up in Labura, one of the driest places in Nyeri County.
Fast-forward a few decades later. Under his stewardship, Optiven Group has won many coveted awards amongst them: Winner, best in use of Digital Solutions by Land Agents – 2ND Annual Digital Inclusion Awards (2018), The Most Outstanding Innovation in Top 100 Mid-Sized Companies (2017/2018), Exceptional Human Resource (HR) Practices in Top 100 Mid-Sized Companies (2017/2018), Number One Real Estate Firm in Land Selling- SuperBrands (2017/2018).
Other awards include: The Fourth Best Real Estate Company in East Africa, SuperBrands East Africa (2017/2018); Number 68 out of the top 1000 Leading Super Brands across all industries in East Africa, SuperBrands East Africa (2017/2018); and Number One in Top 100 Mid-Sized Companies Survey (2014/2015).
As a Person, Wachiuri has over the years, scooped many awards and appreciations include: 1st Runners Up - National Diversity & Inclusion Awards (DIAR Awards) (2014/2015); Best Entrepreneur - Africa - Diaspora Entertainment Awards & Recognition (D.E.A.R) awards (2017); Executive Leadership Network Appreciation - Business Leaders Forum (2016); Mashujaa Awards (USA) – Best & Most Innovative Entrepreneur, Business & Entrepreneurship (2015); and KEPSA & Ministry of Devolution and Planning honorary recognition for invaluable contribution as a mentor to Kenya Youth Empowerment Project (KYEP) Training and internship Program (2014).
In order to steer his Optiven ship towards the safe routes of the deep blue ocean, Wachiuri understands the need for a Chief Executive Officer who is well versed with matters business, and it is in this vain that he had to make sure that he has pursued a Masters of Business Administration from University of Nairobi. He is currently Pursuing PhD Degree at Jomo Kenyatta University of Technology (JKUAT).