The Iranian Embassy led by H. E. Jabber Barmaki is exploring possible partnerships and collaboration between the University of Nairobi and Iranian Universities.
Speaking during a courtesy call to the University of Nairobi Vice Chancellor, Prof. Stephen Kiama, the Ambassador noted that the institutions of higher learning from the two countries could collaborate on Nano Technology and  oil exploration. The Ambassador opined that Iran has over 40 years' experience in the two sectors and are willing to share with Kenya.  He also revealed that they could work on staff and students exchange programs.
Nanotechnology refers broadly to a field of applied science and technology whose unifying theme is the control of matter on the molecular level in scales smaller than 1 micrometre, normally 1 to 100 nanometers, and the fabrication of devices within that size range. The technology finds its application in a variety of sectors including medicine, transport, agriculture, electronics, energy and virtually every sector of our lives.
H. E. Barmaki revealed that every year, Iran gives 50 fellowships to African students to study Masters and Doctorate programs in Iran.
As part of the efforts to cultivate the cultural exchange between Kenya and Iran, the Embassy has organized an art and cultural festival on COVID19, where cartoonists are invited to participate as they showcase the rich heritage from the two countries. Cartoonists and talented artists are encouraged to get in touch with the Iranian Embassy and apply before August, 2020. The cartoons will be based on six categories among them are; family quarantine, health workers, sanitation among other ways people are dealing with COVID19 pandemic.
Prof. Kiama supported the partnership, collaboration and exchange programs between the University of Nairobi and Iranian Universities. He also agreed to partner with the Embassy on the forthcoming art and cultural exchange program.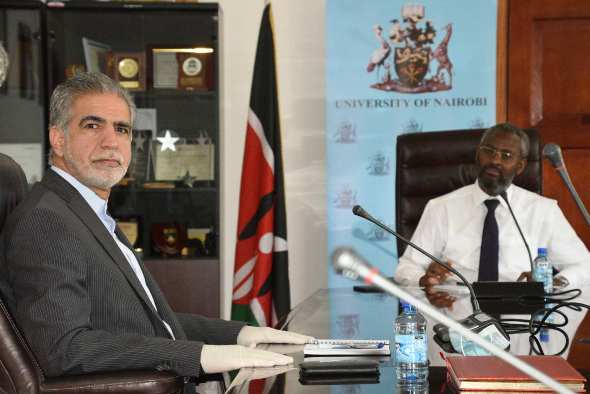 Iran Embassy Explore Partnership with UoN