Professor Charles Okidi, the gallant academic is no more. We received the news of his passing this morning with shock and sadness, as it is barely a month since the launch of his memoires titled " In Pursuit of Excellence."
Charles Okidi, until his demise, was an outstanding environmental law scholar , the  quintessential intellectual giant , a passionate researcher on development, a scholar on the environment and law. Indeed, Okidi remains a great contributor to governance and leadership in Kenya.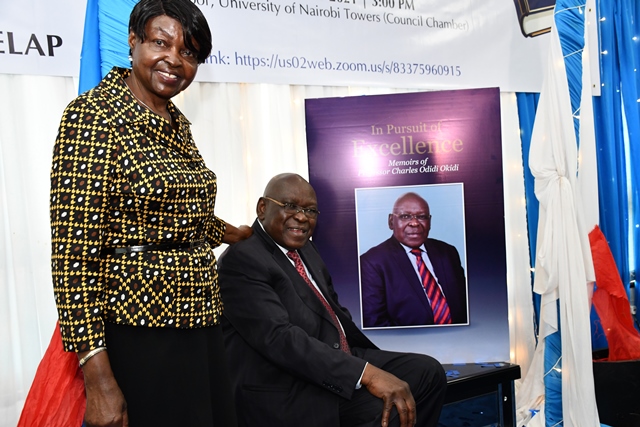 A testament of Prof Okidi's contribution to the University of Nairobi is his key role in the establishment and Directorship of the Centre for Advanced Studies in Environmental Law and Policy, a new faculty-level academic unit, exclusive for postgraduate programmes in Environmental Law, Environmental Policy and Environmental Diplomacy, at the University of Nairobi over  15 years ago. A consummate teacher of environmental law and law of the sea, Professor Okidi developed and executed competent teaching and research in environmental law and policy and was renowned as an institution builder, and a mentor of scholars. Indeed, his unwavering commitment in building capacity in this area led him to earn the title, "the father and mentor" of environmental law title in Africa and beyond. Prof. Charles Odidi Okidi was an academic who has greatly contributed to the development of environmental law, not only in Kenya but globally; and dedicated his life to seeking to improve the manner in which the environment is governed.
Using his scholarship, he has left an indelible mark in the country's efforts to develop a progressive and responsive environmental legal framework, in addition to influencing Kenya's role in international environmental negotiations. Professor Okidi's commitment to environmental law is evidenced by his contribution to the development of regional and global instruments that have shaped the countries' actions in the quest for sustainable development. When Kenya adopted the Environmental Management and Coordination Act 1999, for instance, Professor Okidi was instrumental in drafting the stakeholder consultations that resulted in what is still a far –sighted piece of legislation. He made an influential presentation to the Constitution of Kenya Review Commission which formed the Land Environment Chapter in the Constitution. His contributions to the environmental law provisions of the 2010 constitution of Kenya put Kenya in a league of countries that had elevated sustainable environmental and natural resources management to the highest level of the land.
Professor Okidi was a recipient of the Elisabeth Haub prize, an international award granted for his research and publications on environmental law. He taught, published and lectured widely on comparative environmental law, law of the sea, and international water law, and was generous in mentoring upcoming environmental law and policy scholars and practitioners and his prolific authorship of works will guide generations in years to come.  Professor Okidi also served on several government institutions and task forces making critical policy contributions to the country.
According to his colleagues at the University of Nairobi, Prof Okidi expanded the field of environmental law significantly "He can be described as a dynamic actor, engaging into academia  for different  directions, a solid researcher, a senior and fine pleasant colleague, a mentor and a warm friend.
The University enjoins with the family to celebrate rather than mourn this really intellectual presence with unmatched credentials in his field.  As expounded by many of his colleagues and students, he was a rare intellectual, simple, easy going, tough as nails in his mind, and always ready with a smile.
Rest in Peace Prof Charles Odidi Okidi, you were a cut above the rest, a gentle soul.