The gallant sports men and women who have brought glory to the University of Nairobi and have flown the University flag high not just in Kenya, but in Africa and across the world have been honoured today on, June 25, 2020 in an event that took place at Taifa Hall, Main Campus.
In a ceremony where leading sports personalities from the student community were given trophies and certificates for their exemplary performance, the University of Nairobi Vice Chancellor, Prof. Stephen Kiama said that sports occupy a big part of human life and that it is used to build strong bonds within communities. It instills desirable virtues in societies. "Sports teaches us that you can win or lose.  It is good to learn such virtues early in life. Sports helps in character formation. We shall continue to provide holistic education, with a fair balance of curricular and extracurricular activities," he said.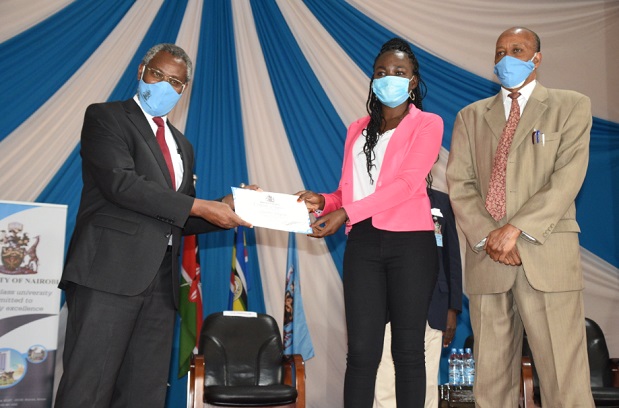 The Vice Chancellor, added that the University of Nairobi has made significant investments in sports facilities. He encouraged stakeholders to continue supporting various teams. "Sports has become big business in our world today. He recognized the important part sports plays in increasing the brand visibility of the University of Nairobi. "Sports teams can easily popularize our brand. We can work together with corporate entities for mutual benefit. Rugby, hockey, basketball have contributed to UoN brand," he remarked.  "Time is ripe for sports scholarship in Kenya. We can partner with companies to help students pursue academics and sports," he observed.
In his concluding remarks, he congratulated all the winners. He urged everyone to cultivate a culture of hard work, discipline and zeal for excellence, the virtues that sports teach. "These athletes have developed such skills that will help them achieve their goals in their life," he said.  
Prof. Julius Ogeng'o, Deputy Vice Chancellor, Academics Affairs, observed that sports is very effective in building teamwork and rigorous exercises involved helps the body build immunity and fight off diseases.   "Blessed are those who give. Please continue supporting our sports teams," he said as he thanked the event sponsors.
Director of Sports, Mr. Mbaabu Mureithi narrated the journey of persistence and hard work that students have exhibited during the 2019/2020 sports calendar year. Various teams have managed to conquer East Africa, Africa and World Championships, flying the UoN flag high. "Last year, Roman Ochanda, represented the University of Nairobi in World University games in Italy. That is like the Olympics of University games," he said.   He as well took the opportunity to thank the sponsors; Techno Mobile, Brookside, University of Nairobi Alumni Association, I&M Bank, Primewood Supplies, Foot Print, Nation Media Group, Special Olympics Kenya, Switch TV, Ebenezer Fantacies among others. The sponsors have been very keen in providing sports uniforms to various teams as well as sports equipment.  Techno Mobile has been partnering with UoN in branding the university sports team with kits. 
Congratulations  to all the winners.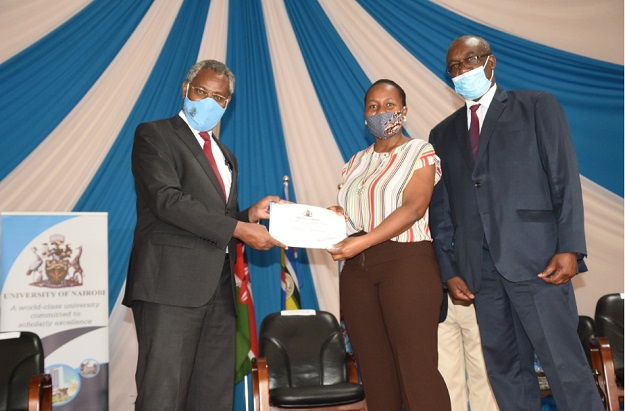 University of Nairobi holds Virtual Sports Recognition and Awards Ceremony