On the 9th of October 2019, Kenya Airways hosted a one of a kind fashion show, dubbed Kenya Airways (KQ) Sustainability Design Challenge. The well attended event had the who's who in the Kenyan fashion industry, media and students from various colleges/ universities in the house and directors, management and staff of KQ led by the airline's Chief Commercial Officer - Ursula Siling.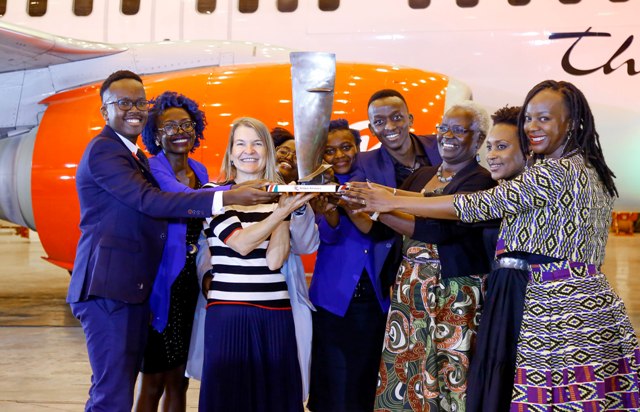 The KQ Sustainability Design Challenge was a call sent to leading Fashion Design Schools in Nairobi, with the aim of tapping the students' creativity in upcycling and sustainability projects, in line with the SDG goals no. 8, 9 and 12 all aimed towards decent work and economic growth for the youth, industry, innovation and infrastructure and responsible consumption and production of goods.
Every so often, airlines around the world change their uniforms and in so doing they may have old uniforms that are not of use anymore. Instead of probably throwing the old uniforms into the trash like most corporates do, Kenya Airways through its Suitability Department led by Jacquie Muhati, engaged Fashion students from various private and public colleges in Nairobi and set them a challenge to design and produce fashion items from old uniforms and produce fashions items that may appeal to various target audiences. In line with this, 5 students (working in groups) per institution were tasked to recycle the old KQ uniforms and materials and add an eco-friendly touch to their brands. The students were given one month to come up with upcycled products from Kenya Airways and Partners, in the hope that from this, they could create a solution as a future option for upcycling uniforms.
The culmination of this challenge was the well put together Fashion show at the airline 's hangar- beautifully curated with Pridestars from Kenya Airways Price Centre walking the runway, with the products designed by the students. The company CCO Ursula Silling in a speech, reassured all that as a company, their agenda was and is premised on ensuring they throw away nothing that can be reused or re purposed. "I would therefore like to reinforce our commitment to working with different partners, students, youth and fashion designers to upcycle our products to develop new ones and in some cases add value to some existing products. "
UoN students
,
School of Arts and Design
,
KQ sustainability challenge