Monday, February 15, 2021
The University of Nairobi (UoN) College of Health Sciences (CHS) is among three public health institutions that has benefited from a donation of medical equipment from the Republic of Hungary and the Republic of Slovenia.
The assorted medical equipment worth Kshs. 20M  was officially handed over to CHS in a ceremony that was held on 12th February, 2021. 
UoN Vice Chancellor Prof. Stephen Kiama was represented at the event by Prof. Julius Ogengó, Deputy Vice Chancellor Academic Affairs.
Prof. Ogengó said the University puts heavy premium on such collaborative approach, partnerships for exchange of students and staff, research, infrastructure and facilities improvement.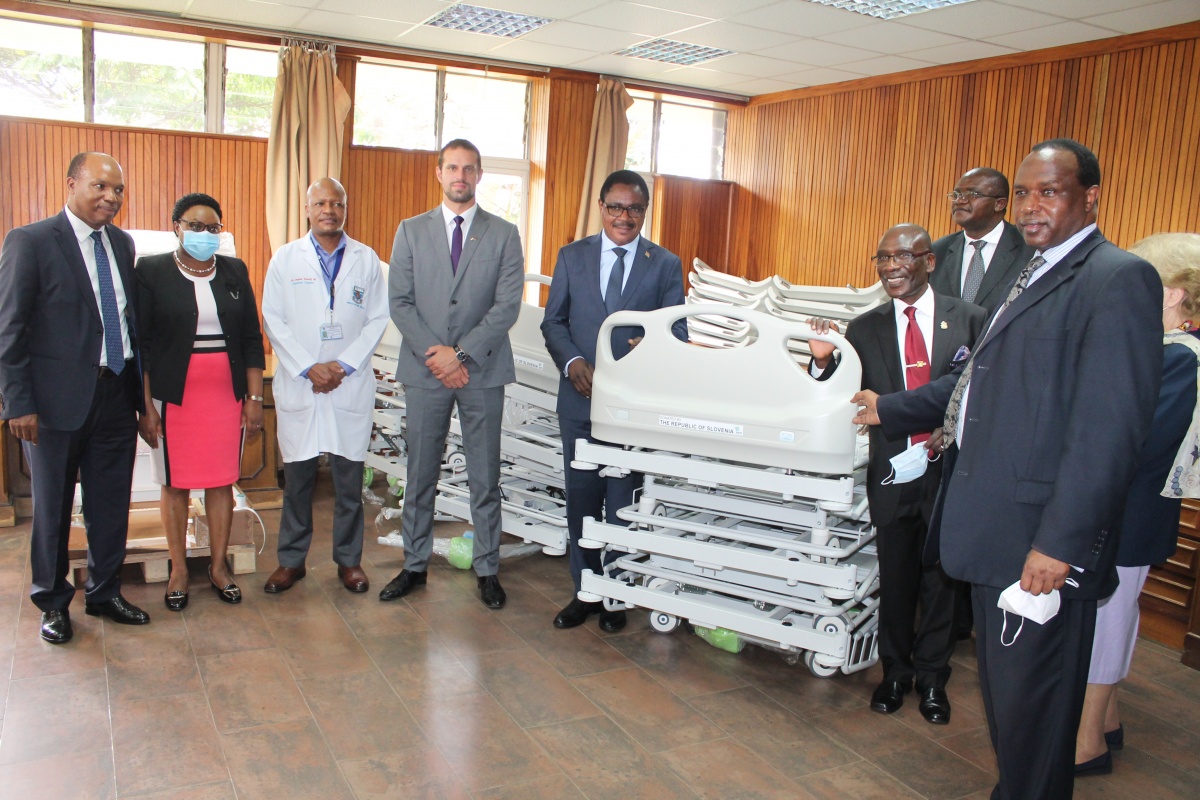 "I see very good intergovernmental partnerships and linkages aimed at making a big difference in the society. This is consistent with the strategic direction of the university, our philosophy of inspiring the society that we live in.
"The equipment we are receiving today will not only serve the university but will also serve the society and so the university is living its vision, its mission and philosophy of linking society and encouraging them all," Prof. Ogengó said.
Education Cabinet Secretary Prof. George Magoha said the donation was an expression of strong friendship between Kenya and the Republic of Hungary and Slovenia adding that it will go a long way in boosting the government's health agenda.
In a speech read on his behalf by the Principal Secretary State Department for University Education and Research,  Amb. Simon Nabukwesi, Prof. Magoha singled out UoN through CHS as one of the key academic and research institutions spearheading the implementation of the health agenda in the country.
"As an example, UoN together with Kenya Medical Research Institute were the key institutions developing strategies to combat the current COVID 19 pandemic," the CS said.
He thanked the government of Hungary for providing 100 scholarships annually from the Ministry of Education to Kenyan students to study in Hungary in various fields including medicine saying these scholarships have become the most competitive because they are fully paid and the courses offered are very good for building capacity in Kenya.
He went ahead to congratulate CHS for sustaining quality training in health sciences.
"This is important for all of us, we live because we have good doctors trained by the UoN to look after us. Being the oldest and the biggest training college for health professionals in this country, most of the health professionals were trained at UoN.
"UoN has continued to provide leadership in cutting edge research with the view to making health services affordable and easily accessible," Prof. Magoha said.
On his part, the Hungarian ambassador to Kenya His Excellency Dr. Zsolt Mészáros said the donation was just the beginning of a longer journey and was hopeful of having more collaboration with UoN, adding that the donation forms part of a joint development cooperation project by the Ministry of Foreign Affairs and Trade of Hungary and the Ministry of Economic Development and Technology of the Republic of Slovenia.
"This is the first time we are doing a joint healthcare assistance with Slovenia and also the first time we are doing it in Africa, it is therefore a unique opportunity and an indication of great things that will happen.
"These are top quality state of the art equipment manufactured in Hungary and Slovenia. We hope they will be put to fruitful use. In addition to the technology transfer we are more focused on know how transfer. We believe that human capacity is what really makes the difference in today's world and that is why we offer scholarships to Kenyan students," Dr. Mészáros said.
The main purpose of the project is to contribute to quality of health services provided by Kenyan hospitals to patients. The equipment will enable these hospitals to provide additional capabilities.
The other institutions that have benefitted from the donation are the Spinal Injury Hospital and Kericho Teaching and Referral Hospital.
The donation includes; 2 patient monitors, 1 surgical trolley with surgery tools, 1 haematoanalyzer, 2 incubators, and 9 hospital beds.
The donation was an initiative of Dr. Julius Kiboi (Chairman Department of Surgery) and Dr. Elly Nyaim (lecturer, Department of Surgery).
Also present during the ceremony were Zsofia Antal, Head of Trade and Development at the Embassy of Hungary in Kenya, Victor Balogh, Mr. Deepak Sharma, CHS Principal Prof. James Machoki M'Imunya, Dr. Regina Mutave, Dean School of Dental Sciences, Prof. Joyce Olenja, Director School of Public Health, Dr. Daniel Ojuka, Department of Surgery, Mr. Joseph Waigwi, the College Registrar, staff and students.