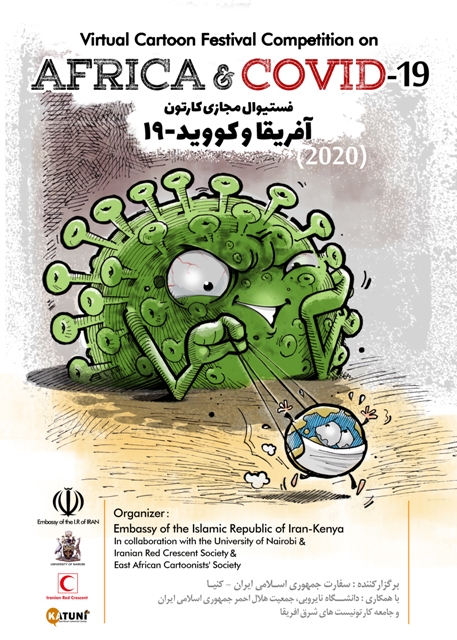 The Embassy of the Islamic Republic of Iran in Kenya, in collaboration with the University of Nairobi (UoN), Iranian Red Crescent Society and East African Cartoonists' Society (KATUNI) are holding an African virtual cartoon festival competition on COVID-19 aimed at creating a synergy between the artist and activism geared towards addressing the ongoing global pandemic.
The festival is offering a platform to the youths with various creative talents by enabling them to utilize their full potential in illustrating the Covid-19 pandemic phases while sharing practical and uniquely tailored concepts on how to keep safe during this period and post period.
This festival is solely for African and Iranian cartoonists.
The deadline for sending artworks to the secretariat is on 5th August 2020 by Midnight East African Time to this email:  covidinafricafest@gmail.com
Public voting will be held on 10th July 2020 to 17th August 2020 at Islamic Republic of Iran's Facebook page: @Iran.Kenya
While Jury selection will be announced on 19th August 2020 at Islamic Republic of Iran's Embassy website: https://kenya.mfa.gov.ir/en